WE MUST ENCOURAGE CREATIVE RISKS. WE MUST NOURISH THE ARTIST IN US ALL. #IMAGININGBAYAREA
— Beth Grossman, Founding Cultural Agent
All participants are citizen journalists and have assembled to create the first issue of The Imagining Times. We have a three-hour press deadline to write and illustrate a newspaper filled with headlines, articles and collaged pages that describe our community twenty years from now, with art and culture at the core of all initiatives. Citizen journalists arrive and start making decorated name badges that also explore the idea, "ART is ____________________." Our USDAC Chief Policy Wonk, Arlene Goldbard, honors the opening of the first San Francisco Bay Area Imagining with a typewriter ribbon-cutting ceremony and Cultural Agent Beth Grossman invokes the words of our Deputy Secretary, Norman Beckett's speech at USDAC Launch Press Conference, Delivered October 5, 2013: "We inhabit a planet on the verge. The problems are complex, the solutions uncertain, but there is one truth we can hold onto: if we are going to keep our society and planet healthy, all people must be empowered to imagine and enact alternatives for a better world. In order to do this we must deepen our investment in the tools that grow empathy, imagination, and the capacity to collaborate. We must encourage creative risks. We must nourish the artist in us all. The USDAC starts here. It starts now. It starts with you." The group of 50+ citizen journalists assemble in groups led by editors heading up editorial departments of Immigration and Human Rights, the Natural World and Environment, Technology, Social Systems, Health, Public Space, Faith, Spirituality and Community Celebrations, Education, and Anarchy.
We begin by picturing ourselves waking up on July 13th, 2034, and writing on the following questions:
1. Where are you?
2. Who is with you?
3. What are you having for breakfast?
4. What are you doing today?
5. How do you get there?
6. What is the most important thing on your mind?
7. What do you value?
After reflecting and sharing the highlights of our notes, participants get right down to writing, collaging, and creating the newspaper's editorial material. The directions are to imagine that you are in the present moment, twenty years from today, and your job as a citizen journalist is to represent what our community and the world looks like to someone who knows nothing about it. Create a page for our newspaper filled with a headline, short article and collage/drawing that describes our community with art and culture at the core of all initiatives. Write it in the present as is it happening when you wake up to read the newspaper in 2034. What do you hope to see, right here in our communities? What could this place look like if we brought our full creative selves to envisioning and building it? How can we make it real using the power of art and culture?
Following an hour of working together on individual pages that envisioned our future, the pages are shared among the editorial group, so the editor can report back to the larger group. Notes are taken on large paper on the wall:
• Public spaces are sustainably designed and provide natural environments for community interaction.
• Freedom of communication is a human right cross all borders and Pigeon languages are functioning as a lingua franca.
• The Department of Anarchy reports that Hollywood has been destroyed along with its confining images of body and gender standards.
• Our social systems are a "sweet crazy monsoon of life," with easily available healthy foods, affordable and sustainable housing and energy. Mental health issues are now a thing of the past because people feel connected working in community.
• Technology has now created billboards that have a dual function of advertising and cleaning air. Robots provide beach and city sweeping clean-up. In general, technology helps people be more rational.
• The editorial Health department reports that wrinkles are now a fashion statement and grandparents are involved with raising healthy grandchildren. Big agriculture and Big Pharma are dead, replaced by small plot organic farming and the return to ancient herbal knowledge for all health care needs.
• The editorial department of the Natural World declares that we have everything we need right here. All knowledge of our environment is available if we listen and connect with networks of nature to educate ourselves, heal and create in harmony with nature.
• Education is completely free and accessible to all individuals of all ages. It is not standardized, there is no teaching to the test, and art and the wonders of science are central to all aspects of education.
In closing, we propose the idea to print the 2034 newspaper and bury it on San Bruno Mountain in a Time Capsule. There will be a burial celebration with David Schooley, Founder of San Bruno Mountain Watch in Fall 2014.
Finally, we stand up "popcorn style" and say one word that signifies the day for each citizen journalist. We remain standing until everyone is standing together and gather for group photo/video, exclaiming all together: THIS IS AN ACT OF COLLECTIVE IMAGINATION!
READ THE COMPLETE "IMAGINING TIMES" BY CLICKING THE IMAGE BELOW.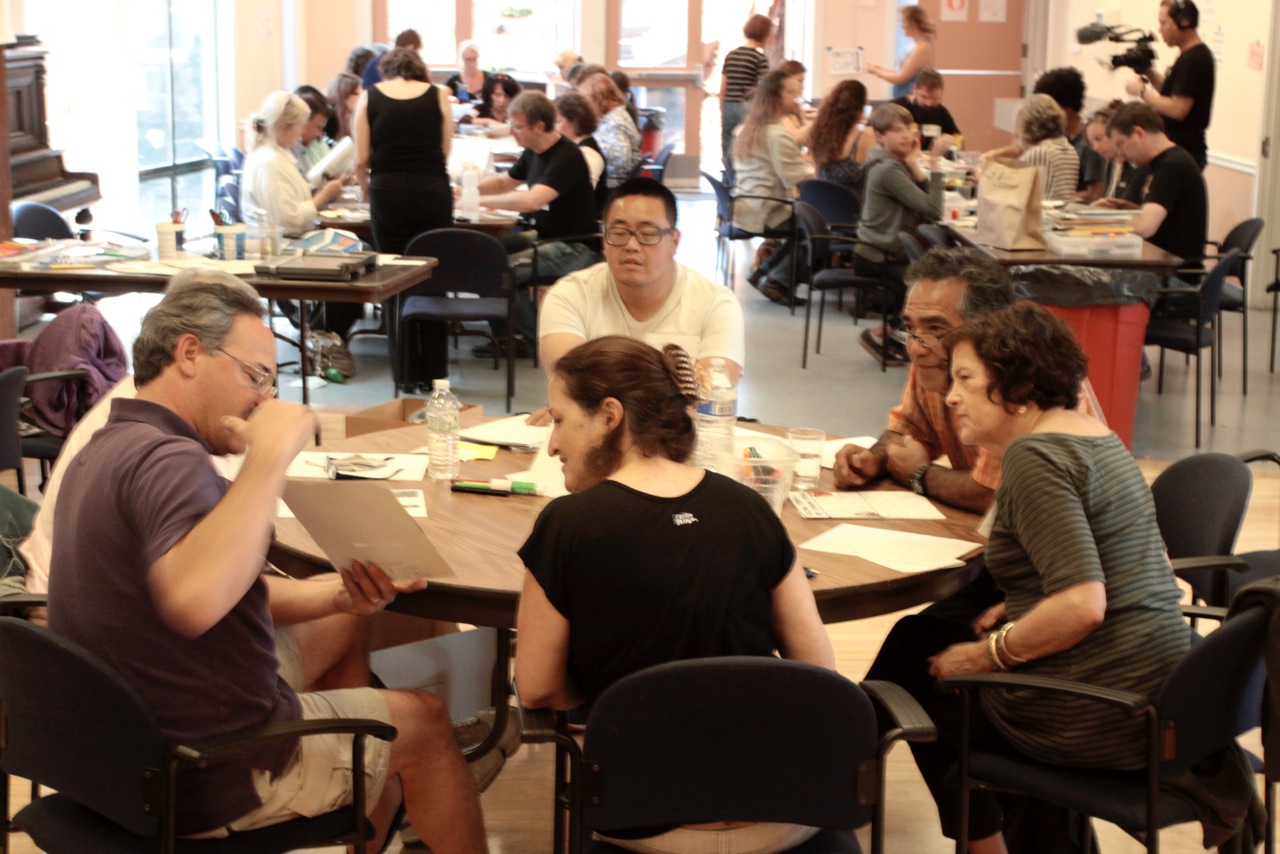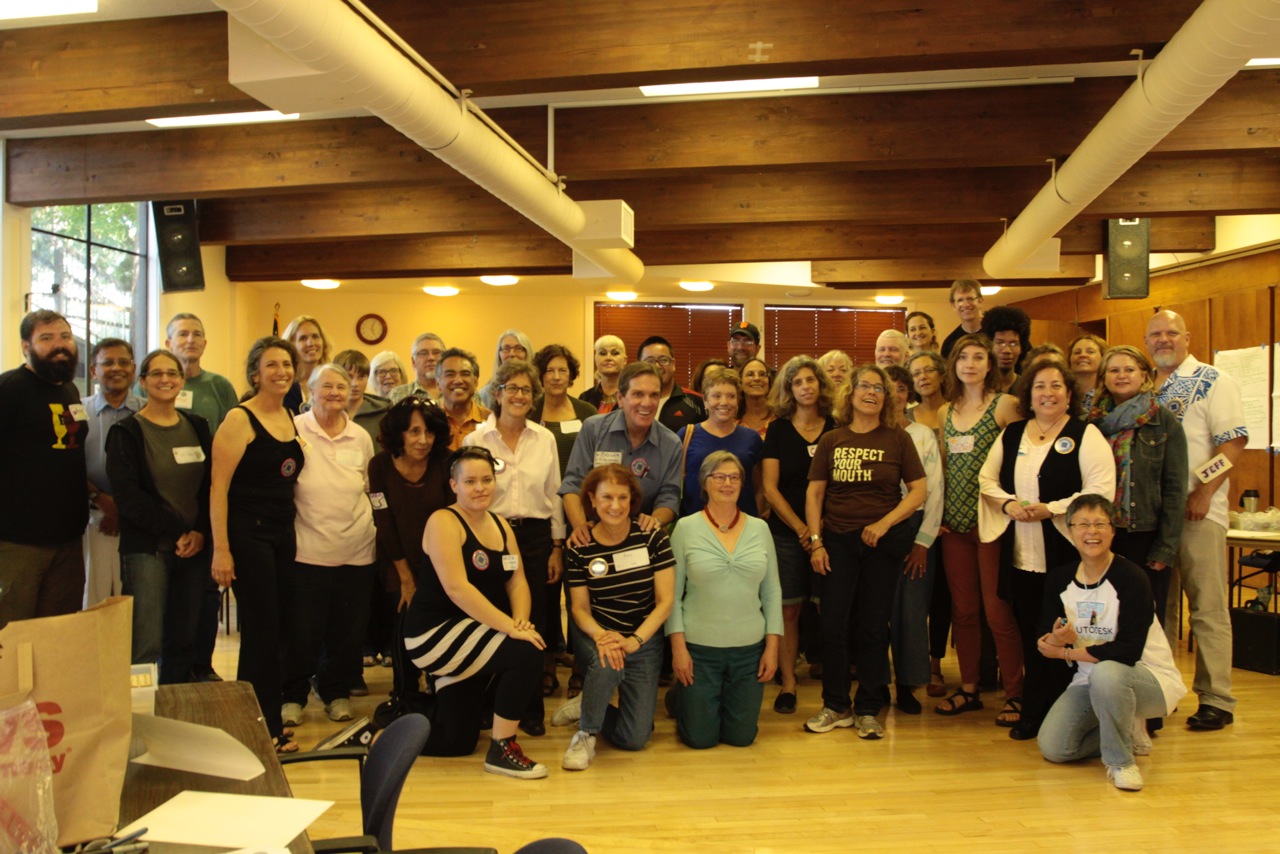 A special thanks to my core group of editors/facilitators , Angelisse Karol, Maria Rogers Pasqual, JungHae Kim, Norma Rodriguez, Teresa Camozzi, Christa Harader, Jeff Weathers, Andi Wong, Joel, Kurtz, Debi Horen and Stella Rubenstein. Keith Moreau and Joel Kurtz are filming this event and Teresa Camozzi and Angelisse Karol are photographing.